As TVs The Frame da Samsung são uma linha de televisões com estilo de imagem. As TVs têm sobreposições montadas na TV e imitam a moldura da imagem. Quando a TV mostra uma imagem estática da galeria, parece que uma imagem está pendurada na parede.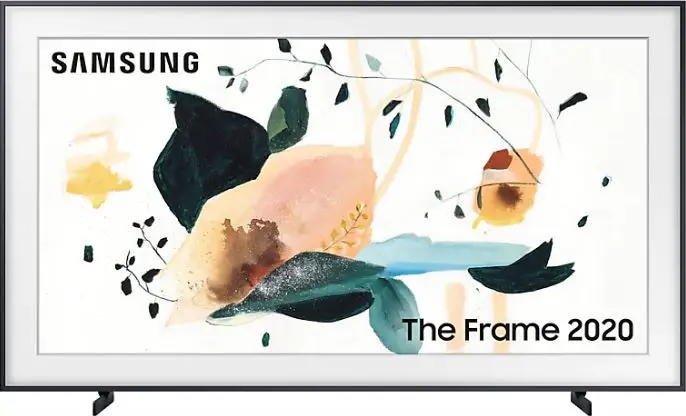 Em 2020, os modelos de TV estão disponíveis para a América do Norte.
QN32LS03TAFXZA –
QN43LS03TAFXZA – 998$
QN50LS03TAFXZA – 1298$
QN55LS03TAFXZA – 1497$
QN65LS03TAFXZA – 1997$
QN75LS03TAFXZA – 2997$
Europa QE75LS03TA ****, QE65LS03TA ****, QE55LS03TA ****, QE43LS03TA ****, QE32LS03TA ****
Especificações técnicas para as TVs The Frame 2020
As especificações detalhadas são fornecidas na tabela, disponível para visualização no final do artigo. Mas se considerarmos os parâmetros técnicos, as TVs em 2020 receberam novas telas. A Samsung lançou a produção de novas telas QLED com melhor reprodução de cores através do uso de luz de fundo com dois tipos de LEDs. Observe também que o número de modelos expandidos em 2020 adicionou um modelo com uma tela de 32 polegadas. Mas a TV possui 32 polegadas, uma tela de resolução Full HD e uma taxa de quadros máxima de 60 por segundo. As televisões com telas de tamanhos 43 e maiores suportam uma taxa de quadros de 120 por segundo.
Diferenças entre as TVs The Frame 2020 vs The Frame 2019
Além das telas, não há alterações especiais nos parâmetros técnicos. O número de portas USB foi reduzido, agora existem apenas duas delas nas TVs 2020. Porta HDMI padrão 2.0. As TVs Frame foram projetadas para servir como um elemento decorativo e uma TV. E, de acordo com a idéia da Samsung, novas inovações técnicas são mais apropriadas em TVs QLED de formato comum. Apesar de 2020, essas são novas telas e um novo nível de som nas TVs.
Especificações detalhadas das TVs The Frame 2020 vs 2019.
| | The Frame 2020 only 32LS03T | The Frame 2020 43LS03T 50LS03T | The Frame 2020 | The Frame 2019 |
| --- | --- | --- | --- | --- |
| | | | | |
| screen | | | | |
| Screen Size | 32 | 43, 50 | 55, 65 | 43, 49, 55, 65 |
| Style | Flat Panel | Flat Panel | Flat Panel | Flat Panel |
| Resolution | 1,920 x 1,080 | 3,840 x 2,160 | 3,840 x 2,160 | 3,840 x 2,160 |
| screen bit | 10bit (8bit+FRC) | 10bit (8bit+FRC) | 10bit (8bit+FRC) | 10bit (8bit+FRC) |
| type screnn | Quantum Dot | Quantum Dot | Quantum Dot | Quantum Dot |
| screen technology | VA | VA | VA | VA |
| Backlighting | N/A | Dual LED EDGE LED | Dual LED EDGE LED | EDGE |
| Dimming Technology | N/A | N/A | N/A | N/A |
| Stand Type (Color) | CHARCOAL BLACK | CHARCOAL BLACK | CHARCOAL BLACK | CHARCOAL BLACK |
| Bezel Width | Slim | Slim | Slim | Slim |
| Video | | | | |
| Motion Rate | 60 | 120 | 240 | 240 |
| refresh rate | 60 | 120 | 120 | 120 |
| Color | 100% Color Volume with Quantum Dot, PurColor | 100% Color Volume with Quantum Dot | 100% Color Volume with Quantum Dot | 100% Color Volume with Quantum Dot |
| HDR (High-Dynamic Range) | HDR | Quantum HDR 4x | Quantum HDR 4x | Quantum HDR 4x |
| Picture Engine | Quantum Processor 4K | Quantum Processor 4K | Quantum Processor 4K | Quantum Processor 4K |
| Audio | | | | |
| Dolby | Yes | Yes | Yes | Yes |
| Sound Output | 20W | 20W | 40W | 40W |
| Woofer | No | No | Yes | Yes |
| Speaker Type | 2CH | 2CH | 2.2CH | 2.2CH |
| Object Tracking Sound | No | No | No | No |
| Q-Symphony | No | No | No | No |
| Multiroom Link | Yes | Yes | Yes | Yes |
| Features | | | | |
| OS | Tizen 5.5 | Tizen 5.5 | Tizen 5.5 | Tizen 5.0 |
| Wi-Fi | Yes | Yes | Yes | Yes |
| Bluetooth | Yes | Yes | Yes | Yes |
| Smart Hub | Yes (incl. Sports, Music and TV Plus) | Yes (incl. Sports, Music and TV Plus) | Yes (incl. Sports, Music and TV Plus) | Yes (incl. Sports, Music and TV Plus) |
| Bixby | Yes | Yes | Yes | Yes |
| Digital Clean View | Yes | Yes | Yes | Yes |
| Ultra Black | No | No | No | No |
| ConnectShare | Yes | Yes | Yes | Yes |
| Closed Captioning | Yes | Yes | Yes | Yes |
| Game Mode | Yes | Yes | Yes | Yes |
| Eco Sensor | Yes | Yes | Yes | Yes |
| Mobile to TV - Mirroring, DLNA | Yes | Yes | Yes | Yes |
| Google Assistant | Yes | Yes | Yes | Yes |
| Alexa | Yes | Yes | Yes | Yes |
| Auto Channel Search | Yes | Yes | Yes | Yes |
| InstaPort S (HDMI Quick Switch) | No | No | No | No |
| Channel Guide | Yes | Yes | Yes | Yes |
| Ambient Mode | Yes | Yes | Yes | Yes |
| Auto Power Off | Yes | Yes | Yes | Yes |
| AI Technology | ? | ? | ? | ? |
| Apps Platform | Smart TV with Bixby Voice, Apps and Full Web Browser | Smart TV with Bixby Voice, Apps and Full Web Browser | Smart TV with Bixby Voice, Apps and Full Web Browser | Smart TV with Bixby Voice, Apps and Full Web Browser |
| Auto Motion Plus | No | No | No | No |
| Embedded POP | No | No | No | No |
| Anynet+ (HDMI-CEC) | No | No | No | No |
| V-Chip | Yes | Yes | Yes | Yes |
| TV to Mobile - Mirroring | Yes | Yes | Yes | Yes |
| USB HID Support | Yes | Yes | Yes | Yes |
| AI Upscale | No | Yes | Yes | Yes |
| Easy Pairing | No | No | No | No |
| Inputs & Outputs | | | | |
| HDMI | 2 | 4 | 4 | 4 |
| USB | 2 | 2 | 2 | 3 |
| Ethernet | Yes | Yes | Yes | Yes |
| RF In (Terrestrial/Cable | Yes | Yes | Yes | Yes |
| RF In (Satellite Input) | Yes Europe, No US | Yes Europe, No US | Yes Europe, No US | Yes Europe, No US |
| Digital Audio Out (Optical) | Yes | Yes | Yes | Yes |
| Audio Return Channel Support | No | Yes | Yes | Yes |
| One Connect | Yes | Yes | Yes | Yes |
| Samsung OneRemote | Yes | Yes | Yes | Yes |
| System | | | | |
| Digital Broadcasting | ATSC/ClearQAM US, DVB Europe | ATSC/ClearQAM US, DVB Europe | ATSC/ClearQAM US, DVB Europe | ATSC/ClearQAM US, DVB Europe |
| Analog Tuner | Yes | Yes | Yes | Yes |
| Accessories | | | | |
| Remote control | TM2050A(White) | TM2050A(White) | TM2050A(White) | TM1950C |